Most Complete, Competent and knowledgeable contract services offer for you
TRISTAR ALWAYS GEARED UP TO SUPPORT WITH HIGHER RELIABILITY,
The team 'TRISTAR' work dedicated with the attitude of quality conscious approach.
ESSENTIAL ELEMENTS OF TRISTAR MANAGEMENT

• Job Ownership
• Technology & Practice
• Criticality assessment
• Training & Competence
• Records Data Management
• In-Service Inspections
• Management of Leaks

Our Team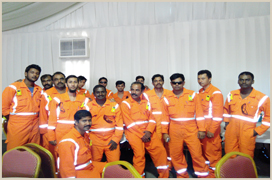 TRISTAR SERVICES OFFERS

• Flange management system
• Pre-Commissioning, Commissioning and Start up Services
• Maintenance (Asset Management, Shutdowns & Technical support)
• Offshore Bolting Services
• Cold Cutting
• Tube Expansion

FLANGE MANAGEMENT SYSTEM
Flange manager is a joint integrity data management program. Joint integrity is about ensuring that joints are leak free for the life of a facility; legislation & public expectation require nothing less. Recording and managing the information associated with the tightening of joints is a central issue of joint integrity management. Best practice guidelines such as that published by the Energy Institute & ASME require that joint assembly records be maintained. The purpose of flange management is to facilitate compliance with this requirement whilst providing an interface that is both powerful and easy to use.
BOLTING SOFTWARE
Our software provides advanced support for your bolt tightening requirements. It is easy to use & provides procedures & documentation for multiple bolted joint projects.
CUSTOMER SUPPORT- Satisfaction Guaranteed
We offer you 24/ 7 support, Tristar technicians are dedicated to zero waiting time, delivering expert and timely assistance, and back each other up in the field to provide you with reliable service.
UTRASONIC LOAD TESTING
Introduces the NEW TLM that measures and track STUD elongation in conjunction with standard torque tools. It manages multiple readings per bolt, it is with window based functionality.

Application Pictures