APPLICATIONS
1. Pipeline Flanges
2. Pressure Vessels
3. Valves and Pumps
4. Manways
5. Heat Exchangers
6. Diesel Engines
7. Cranes
APPLICATIONS
1. Presses
2. Steam and Gas Turbines
3. Shaft Couplings
4. Coal and Rock Grinders
5. Catalyst Reactors
6. Wind Turbines
7. Electric & Steam Generators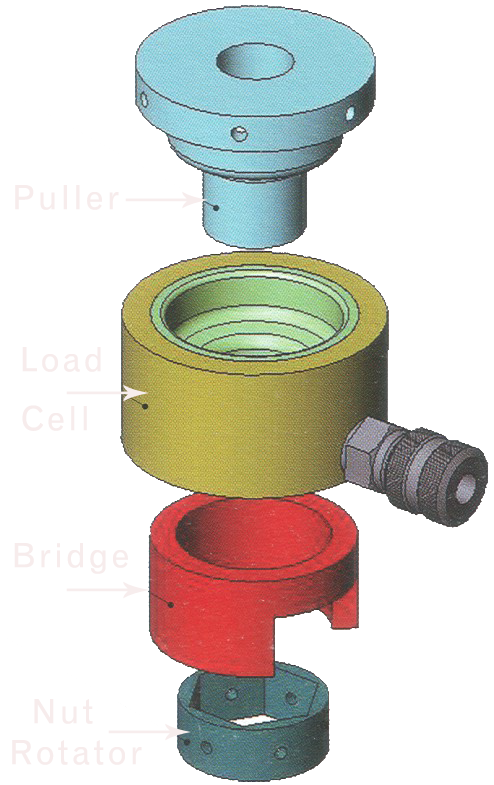 TRISTAR AIR OPERATED HYDRAULIC
POWER PACK FOR BOLT TENSIONERS
The air operated pumps are designed considering the safety, reliability and maximum operator comfort. All the pressure connections are facing away from operator.

• Model No : TBP-100
• Consumption of Free Air 800 litres per minute
• (28 standard cubic feet per minute)
• Air Pressure Required 4 - 7 bar (60 - 100 psi)
• Finish Pressure Gauge Dual Scale 0 - 2000 bar
• Working Pressure 1500 bar

TRISTAR HAND PUMPS FOR BOLT TENSIONERS
The TRISTAR 2-stage hand pumps comes with pressure gauge as standard, this gives the user precise and safe control over the work carried out. The gauge is directly mounted onto the pump and is well protected by the specially designed pump lever.
• Model No : THP15
• Maximum Working Pressure : 1600 Bar
• Tank Size : 1.8 / 2.4 Ltr
• Return connections on all pumps.
• Robust design
• Aluminium tank.
• Easy and simple maintenance